Voice - Over Services : English & Bengali
페이지 정보
작성자
Ashim Gupta
댓글
0건
조회
2,972회
작성일

2022-07-16 15:36
본문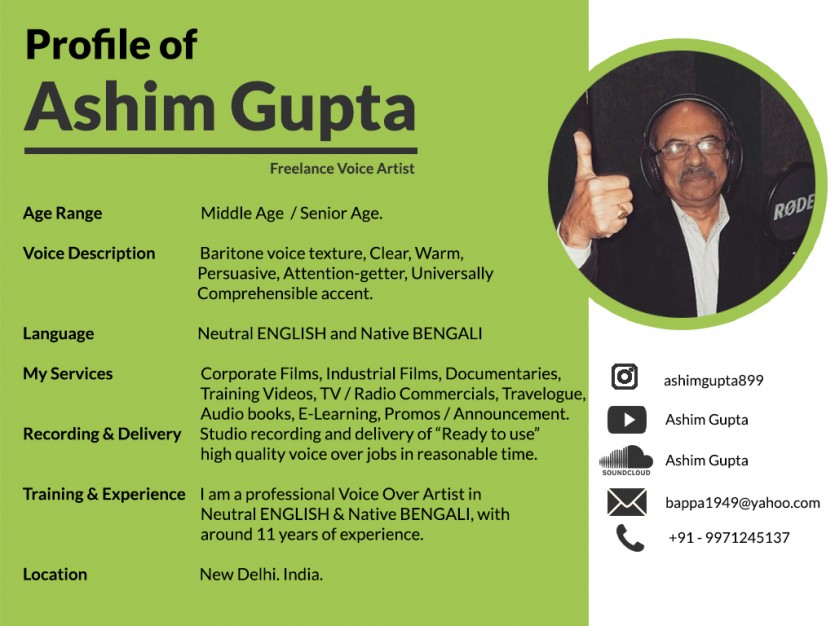 Company Name

Freelance Voice Artist

Project

Voice - Over Services : English & Bengali

Project Category

Other

Name

Ashim Gupta

E-mail

bappa1949@yahoo.com

Tel

=91-9971245137
I am a Freelance Voice Artist
Profile of Ashim Gupta
Age Range : Middle Age / Senior Age.
Voice Description : Baritone voice texture, Clear, Warm, Persuasive, Attention-getter.
Language : Neutral ENGLISH and Native BENGALI
My Services : Corporate videos , Documentaries, Audio Visuals, TV / Commercials, Travelogue, Audio books, E-Learning, Promos.
Recording & Delivery : (1) I will go to any studio in my area. (2) I can record and then deliver the audio files via Email (3) I can record and then upload files via 'Wetransfer' (4) I can record and then deliver the files by regular mail
Training & Experience : I am a professional Voice Over Artist in Neutral ENGLISH & Native BENGALI, with around 10 years of experience.
Location : New Delhi. India.
Email ID :
bappa1949@yahoo.com
Phone : 91 - 9971245137
https://www.youtube.com/channel/UClBs78e4aYm_16AFeLGxv9g
bappa1949.wixsite.com/ashimgupta
https://soundcloud.com/ashim-gupta-53130534
• Professional and Self- Motivated with drive to achieve results.
• Enthusiastic, organized, good in written and oral .Eager to learn new things, analyze situations and contribute to solutions.
• Set priorities to produce results and meet deadlines.
• Able to deal with people at all levels in an organization.
• Transparent, Mature and Humane person.
ACADEMIC ACHIEVEMENTS & PROFESSIONAL COURSES
a) B.Com University of Calcutta
b) Sales Management 1) London Chamber of Commerce
2) School of Marketing.
c) P.G. Diploma in Business Management IGNOU, New Delhi.
d) P.G. Certificate In Mass Communication & Public Relation Jadavpur University